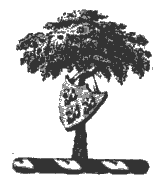 Waller Family History
---
---
This page is still under construction.
---
In due course I hope to record here our family tree which can be traced back (with varying degrees of certainty) to about 1087.
---
My ancestors include Edmund Waller the metaphysical poet, and (possibly) Sir Richard Waller of Speldhurst who allegedly faught at Agincourt (or at least lied about it!) and who lived at Groombridge Place, Kent.
It was Sir Richard who captured the French Duke of Anguleme and imprisoned him at Groombridge. [It was almost certainly Anguleme and not the Duke of Orleans as is widely quoted if you go to Groombrodge today!). He also captured the infamous Jack Cade when he was 'Sheriff of Kent'
Another branch of the family faught in the civil war, with repesentitives on both sides. Sir William Waller was a noted Parliamentarian, whose signature is on the death warrant of Charles I.
My father's mother was Cicily Crace, daughter of Edward. The Crace family who were notable interior designers (of for example, the Houses of Parliament and Brighton Pavilion). The son Edward was travelling to Australia in the Duncan Dunbar which was shipwrecked at Las Rocas off Brazill. The passengers and crew were rescued from a coral island after 11 dangerous days. During this time Edward fell in love with the 16 year old daughter of the Mort family who were also on the ship, (the Morts were big in beef and commerce in Sidney), They later married and settled at a sheepstation at Gungaleen in Australia. This site was compulsorily purchased in 1912 and is now Canberra! My father returned to Enland as a baby at the outbreak of war in 1914. He never went back.
My mother is descended from John Montresor who distinguished himself as a close aide to General Wolfe at Quebec in 1759. He also volunteered to lead a party to carry dispatches to New York for General Amhurst and only avoided starvation by eating his leather breeches and raw Woodpeckers. He had a number of other achievements, for exampole he surveyed New York in 1766. When he returned to his home at Belmont, Faversham in Kent he was falsely accused of dishonesty. He had all his propery confiscated and died in Maidstone jail (1799) without charges or trial. After his death he was declared entirely innocent but his properties were never returned..
---
The history of many of my ancestors is documented in remarkable detail. The earliest record is of John de Waller who arrived from Normandy on 1087. (However records this old are often full of errors). Getting all the family records onto the web is a big project which will require some time. However, for now if you are interested in any of my ancestors you are welcome to email me.
---
Since this page is not ready, you can visit the Family History page of a another Waller on the web. It is a good website but some of the historical detail is wrong!
In the meantime the existing Wallers are doing their bit to look important. Here is a picture of my brother (Richard) shaking hands with President Clinton ...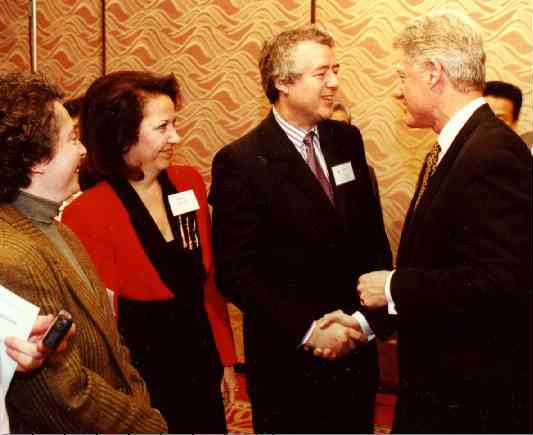 ...and my Neice (Sarah) meeting the Princess Royal.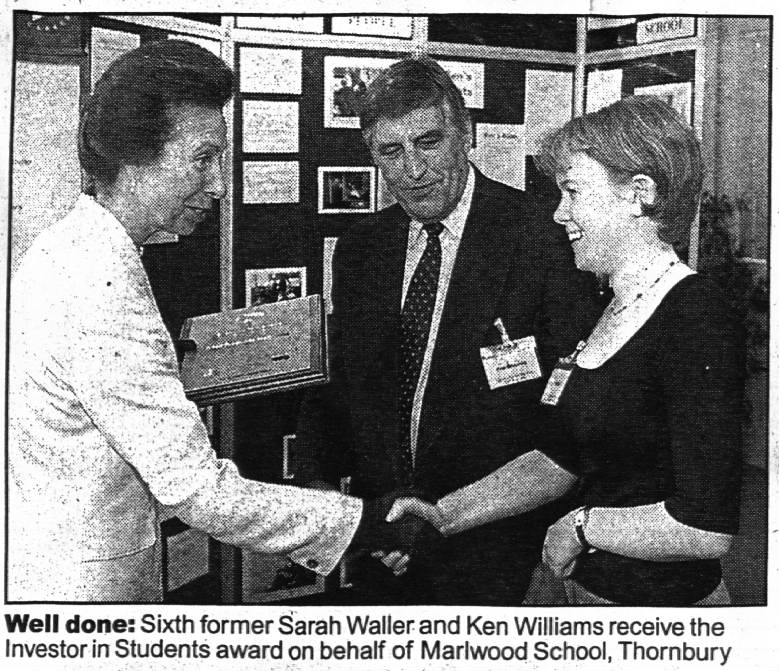 One day, I shall be famous, too!
---